Back to all posts
Posted on
Vaccine Update - Alberta, Canada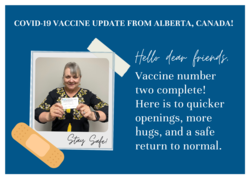 June 8, 2021
Vaccine number two complete!
Here is to quicker openings, more hugs, and a safe return to normal.
Yours truly,
Wanda
April 14, 2021
Alberta's current aggressive vaccine rollout is so successful that even Wanda Simmons our International Education Supervisor, despite her hatred of needles, took one for the team! We are all in line to receive our vaccine so that our international friends will be safe to enter Canada.
Stay safe,
Wanda